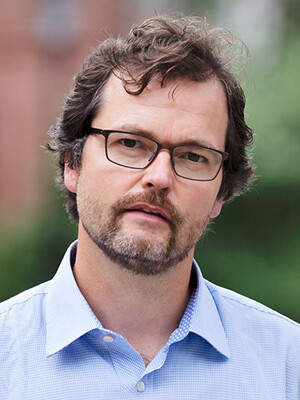 Frank Griffel, who is among the world's leading scholars of Islamic intellectual history and philosophy, has been appointed the Louis M. Rabinowitz Professor of Religious Studies, effective immediately.
He is a member of the Faculty of Arts and Sciences in the Department of Religious Studies.
His book "Al-Ghazālī's Philosophical Theology" (2009), considered the authoritative examination of thinker Al-Ghazālī's work and influence, revealed how a new cosmology enabled Islamic science and philosophy to flourish beyond the 12th century. Translated into Turkish and Arabic, and reviewed in major interdisciplinary journals (the Journal of the History of Science, the American Journal of Islamic Social Sciences, and others) and in the popular press, the volume received Iran's World Prize for Book of the Year and an honorable mention for the Book Prize of the British Society for Middle Eastern Studies. Likewise, Griffel's books "Apostacy and Tolerance in Islam" (2000) and "Thinking About Islam: Essays on Understanding a Religion" (2018), both published in German, garnered international audiences. Griffel continued his documentation of Islam's intellectual history in "The Formation of Post-Classical Philosophy in Islam," published in 2021. This body of work has brought Griffel renown as a commentator on Islamic history and culture in both academic and non-academic circles.
Griffel has made agenda-setting contributions to the international study of Islamic religions. He is an editorial board member of major journals in Islamic and Middle Eastern Studies, including Journal of Islamic Studies (Oxford), Arabic Sciences and Philosophy (Cambridge), Studia Islamica (Paris),  and Ilahiyat Studies (Bursa, Turkey), and active in scholarly organizations based in Germany, Belgium, France, and the United States. Griffel has held major awards and fellowships, including a Carnegie Foundation fellowship, the Mellon Fellowship at the Institute for Advanced Study at Princeton, and most recently the Humboldt Foundation's Friedrich Wilhelm Bessel Research Award, demonstrating the broad influence of his work.
Griffel's international reach has increased Yale's visibility and reputation in the field of Islamic and Middle Eastern studies. He has organized conferences — including "The World's Eternity and God's Free Will" in 2017 and "Al-Ghazālī & His Influence" in 2011 — that gathered top scholars in the field at Yale. In addition, Griffel connects with the broader community by drawing links between his work on Islam's past to contemporary issues around Islamophobia and human rights, and has hosted a number of symposia and panels on such issues for the Yale and New Haven communities.
At Yale, Griffel is an exceptional university citizen whose service supports studies of the Middle East across departments and divisions. He currently serves as chair of the Department of Religious Studies, though on leave this semester. He was previously chair of Yale's Council of Middle East Studies, and in that role served as principal investigator for Title VI and FLAS grants. Griffel has also served on the Humanities Program Executive Committee, the Yale College Committee of Honors and Academic Standing, and other college-wide bodies. Griffel's teaching interests range from classical Arabic philosophy to the position of Islam in 21st century culture; from Islamic law past and present to the influence of Islamic thought in European history.
After studying philosophy, Arabic literature, and Islamic studies at universities in Göttingen (Germany), Damascus, Berlin, and London, he received his Ph.D. from the Freie Universität in Berlin.