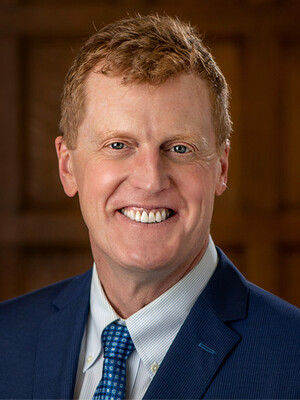 Stephen J. Davis, who studies ancient and medieval Christianity with a focus on the eastern Mediterranean, has been appointed the Woolsey Professor of Religious Studies and Professor of History, effective immediately.
Davis is a member of the Faculty of Arts and Sciences (FAS) in the Department of Religious Studies and the Department of Near Eastern Languages & Civilizations.
His work illuminates the history of Christianity in the Mediterranean, particularly in Egypt, through critical engagement with ancient texts and material cultures. Davis has authored five monographs. The first of these was "The Cult of St. Thecla" (2001), which reconstructed the role that communities of women played in early Christian piety. In "The Early Coptic Papacy" (2004) and "Coptic Christology in Practice" (2008), Davis deepened his study of the institutions, theologies, and religious practices of Christians in Egypt. His book, "Christ Child: Cultural Memories of a Young Jesus" (2014), a finalist for the American Academy of Religion Book Award for Excellence, presents a history of interpretation related to the so-called "Infancy Gospel of Thomas," drawing on sociologies of cultural memory to situate stories about the childhood of Jesus in the context of medieval Jewish-Christian and Christian-Muslim encounter. Davis's most recent monograph, "Monasticism: A Very Short Introduction" (2018), explores monastic practice in a global historical context from antiquity to the present day. Davis is also principal editor and author of the multi-volume "Catalogue of Coptic and Arabic Manuscripts in Dayr al-Suryān" (2020–), which has made a previously undocumented medieval monastic library accessible to researchers, a generational contribution to scholarship that has opened up new possibilities for future work on a major archive. He has also published dozens of articles on early Christian archaeology, monasticism, pilgrimage, the cult of the saints, and the history of biblical interpretation.
Davis is founder and executive director of the Yale Monastic Archaeology Project (YMAP), which has sponsored survey, excavation, analysis, and cultural heritage management at several ancient Coptic monasteries in Egypt. The project has garnered more than $1.5 million in external and internal funding. In addition, Davis is founding editor-in-chief of Christian Arabic Texts in Translation and is author or co-editor of five book-length editions and/or translations based on Coptic and Arabic texts. He has also co-edited two volumes of essays and has served as an editorial board member for leading journals and book series in the field. In recognition of his global stature as a scholar, Davis has been invited to speak at Harvard, the University of Chicago, Brown, Vanderbilt, and New York University, as well as several international institutions, including Oxford University and the Johann Wolfgang Goethe-Universität in Frankfurt. He has held major research grants from the American Research Center in Egypt, the National Geographic Society, the Dumbarton Oaks Library and Collection, and the Alexander von Humboldt Foundation.
Davis is currently the Head of Pierson College and has a distinguished record of service at Yale. He was Chair of the Council of Heads of College from 2015 to 2018, has served terms as Director of Undergraduate Studies and Graduate Studies in the Department of Religious Studies, and has been on numerous university-wide committees. He teaches courses that introduce students to new perspectives on religious history, exploring and connecting communities around the world through the interdisciplinary study of sites and sources.
He earned his bachelor of arts degree from Princeton, a master's degree from Duke, and his Ph.D. from Yale.